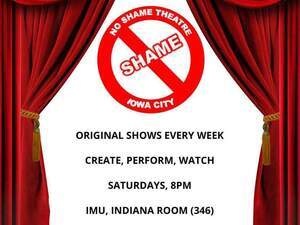 No Shame Theatre
No Shame Theatre provides everyone and anyone the opportunity to get on stage and express themselves anyway they know how. Performances of all genres are accepted, so long as they do not break our three rules:
Must not exceed five minutes
Must be original
Cannot hurt anyone or anything physically.
Not into perfomorming or writing? You are more than welcome to come and watch others perform; it's no fun without an audience! Admission is free, so come check it out!
Individuals with disabilities are encouraged to attend all University of Iowa–sponsored events. If you are a person with a disability who requires a reasonable accommodation in order to participate in this program, please contact Zach Steil in advance at zach-steil@uiowa.edu.
Saturday, April 29 at 8:00pm to 9:00pm
Iowa Memorial Union (IMU), Indiana Room (346)
125 North Madison Street, Iowa City, Iowa
Event Type

Audience

General Interest
Contact Name

Zach Steil

Contact Email

Subscribe