On June 13, a new event calendar system will be launched. At that date, only events in the new system will be displayed. Please make sure all events after June 13 are added to
https://content.uiowa.edu
. You can find out more information about the transition on that site as well.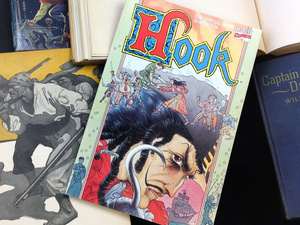 Special Collections Pirate Day Pop Up
Avast Matey! September 19th is International Talk Like a Pirate Day! Started by two friends who for no reason started talking like pirates to each other during a racquetball game, the day has exploded, with celebrations here in the States, New Zealand, and even Uruguay.
While the history of real piracy is, well, not something that should necessarily be celebrated, the founders, John Baur and Mark Summers, explain their reasons for the day: "We…are thinking of movie pirates, the pirates of books, myth and legend. Think Long John Silver in 'Treasure Island.'"
In other words, today is about myths that have spurred our imaginations for generations and created dreams of high-sea adventures and buried treasure.
Really, it's a silly holiday, started by two guys who were just having fun. However, we here at Special Collections think life is serious enough, so let's have one day to be silly together. Arrr, got that matey?
Individuals with disabilities are encouraged to attend all University of Iowa sponsored events. If you are a person with a disability who requires a reasonable accommodation in order to participate in this program, please contact colleen-theisen@uiowa.edu in advance of the event.
Tuesday, September 19, 2017 at 11:00am to 2:00pm
University of Iowa Main Library, Learning Commons Group Area D (across from the cafe)
125 West Washington St. Iowa City, IA 52242-1420
Event Type

Audience

Departments
Hashtag

Contact Name

Colleen Theisen

Contact Email

Contact Phone Number

319-335-5923

Subscribe