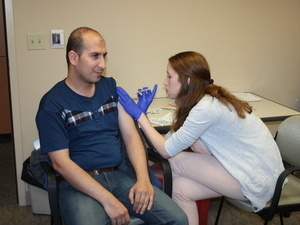 Inspiration Open House at the College of Pharmacy: Health Care in the Pharmacy Practice Lab
The Inspiration Open Houses will be held from 7–9 a.m. from Monday, Sept. 12 through Thursday, Sept. 15. Grab a donut and get a behind-the-scenes look at some of the UI's most impressive facilities.
How do College of Pharmacy students deliver health care services? Visit the Pharmacy Practice Lab during President's Installation Week on September 14 to find out!
The Pharmacy Practice Lab, a nationwide model in pharmacy education, is where students put all of their new knowledge and skills together to prepare for their future careers. The lab introduces a variety of classroom methods including active learning components where students practice their skills relevant to disease states.
Our open house features second and third-year students who will be located at numerous stations in the practice lab ready to take your vitals, assess your bone health, demonstrate smoking cessation models, and give you a free influenza vaccination! Pharmacy practice lab faculty members will supervise students and be ready to take your questions as well.
This event is free and open to University of Iowa faculty and staff, as well as community members. Refreshments will be provided.
For more information, please contact Barbara Kelley.

Wednesday, September 14, 2016 at 7:00am to 9:00am
College of Pharmacy, Pharmacy Practice Lab (second floor) 115 S. Grand Ave., Iowa City, IA 52242
Event Type

Audience

Departments

General Interest

Tags

Website
Hashtag

Contact Name

Barbara Kelley

Contact Email

Subscribe