On June 13, a new event calendar system will be launched. At that date, only events in the new system will be displayed. Please make sure all events after June 13 are added to
https://content.uiowa.edu
. You can find out more information about the transition on that site as well.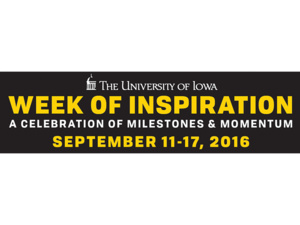 Inspiration Open House at the Holden Comprehensive Cancer Center
The Inspiration Open Houses will be held from 7–9 a.m. from Monday, Sept. 12 through Thursday, Sept. 15. Grab a donut and get a behind-the-scenes look at some of the UI's most impressive facilities.
Holden Comprehensive Cancer Center will be hosting a research open house with tours of cancer research labs. This event is free and open to University of Iowa faculty and staff, as well as community members. Refreshments will be provided.

About the Lab:
The laboratory of George Weiner investigates new approaches to cancer immunotherapy—a way to allow the body's own immune system to fight cancer. The lab is a key hub for the University of Iowa/Mayo Clinic Specialized Program of Research Excellence (SPORE) in lymphoma. The lab works closely with cinical researchers, and with the biotech industry to help move research advances as quickly as possible to where they help patients. Dr. Weiner is the director of the University of Iowa Holden Comprehensive Cancer Center, the only cancer center in Iowa designated as "comprehensive" by the National Cancer Institute.
Individuals with disabilities are encouraged to attend all University of Iowa sponsored events. If you are a person with a disability who requires an accommodation in order to participate in this program, please contact the UI Health Care Marketing and Communications Division of Collegiate and Community Relations in advance at 877-MED-IOWA.
Wednesday, September 14, 2016 at 7:00am to 9:00am
5216 MERF 375 Newton Road, Iowa City, Iowa
Event Type

Audience

Departments

General Interest

Website
Cost

This is a free open house.

Hashtag

Contact Name

Aubry Kunze

Contact Email

Subscribe