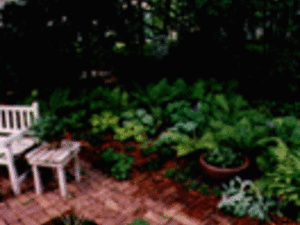 Project GREEN Garden Tour
The 2017 Project GREEN Garden Tour features eight lovely gardens sprinkled throughout the Lucas Farms neighborhood in Iowa City. Anchoring the tour this year is the Plum Grove Historic Home and Gardens, former residence of Robert Lucas, the first governor of the Territory of Iowa who served from 1838 to 1841.
While some visitors may be inclined to walk or bike the neighborhood, parking will be available on public streets, at Plum Grove, the United Church of Christ (after Church services), Mark Twain Elementary, and Iowa City Marketplace (formerly Sycamore Mall). There is no right or wrong way to tour the gardens: start anywhere you wish! But you must have a ticket to enter the gardens, and they can be purchased at any home on the tour: tickets are $5 each and children 10 and younger are free. One ticket will admit you to all of the gardens.
See http://www.projectgreen.org/gardentour.htm for descriptions of homes on the tour.
The theme of this year's tour is "Bee Friendly!" A table will be set up at Plum Grove with information to help increase awareness about the importance of planting pollinator-friendly native plants.
Also this year, there will be silent actions at several of the gardens with items for visitors to bid on. All proceeds will benefit future Project GREEN landscaping projects. If you have a silent auction item you would like to donate, please contact Jennifer Wagner at jseter@msn.com .
The Project GREEN tour this year coincides with "Lucas Farms History Day", a festival sponsored by the Lucas Farms Neighborhood Association. Plum Grove will feature historical activities; there's a "Tour De Farms" bike ride; arts activities will take place along Yewell Street, and pony rides will be given at the Iowa City Assembly Church on Highland Avenue.
Sunday, June 25, 2017 at 10:00am to 3:00pm
Plum Grove Historic Home and Gardens 1030 Carrol St. Iowa City, Iowa
Event Type

Audience

Departments

General Interest

Website
Cost

$5

Contact Name

Project Green

Contact Email

Subscribe