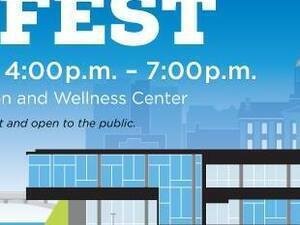 RECFEST
Get ready for the third annual RECFEST on Tuesday, August 29th from 4:00 - 7:00 p.m. at the Campus Recreation and Wellness Center!
Free Food, Prizes, and Fun!
FREE and open to the public!
RECFEST will give you the chance to experience all that Rec Services offers including:
Sports Club Info
Intramural games
Free Try Climbs
Free Bootcamp, TRX, and Fitness Barre classes
Information on program areas including:

Fitness
Aquatics
Sport Clubs
Tennis
Macbride Nature and Recreation Area
Challenge Course
Lifetime Leisure Skills
Outdoor Rental Center
SCHEDULE and EVENTS
Rec Services Info Fair
(Main Lobby) 4:00 - 7:00 p.m.
Everything you'd ever want to know about Rec Services.
Fitness Classes
Bootcamp (2nd Floor - Court 2)
TRX (3rd Floor - Bridge/Track)
Fitness Barre (3rd Floor - AR3)
5:30-6:15 p.m.
Powerlifting (1st floor power racks 1-3)
6:15-7:00 p.m.
Swimming
Leisure Pool, 4:30 - 7:00 p.m.
Bring your suit and try out the lazy river, bouldering wall, and hot tub anytime from 4:00 - 7:00 p.m.
Try Climbs
Climbing Wall 4:00 - 7:00 p.m.
You know you want to. Try out our Climbing Wall for free!
Facility will still be open for general use, but the track and courts will not be open.
Join our Facebook event to stay in the loop!
Tuesday, August 29, 2017
Campus Recreation and Wellness Center
309 South Madison, Iowa City, Iowa
Event Type

Audience

Departments

General Interest

Website
Cost

FREE

Contact Name

Recreational Services

Contact Email

Contact Phone Number

Subscribe