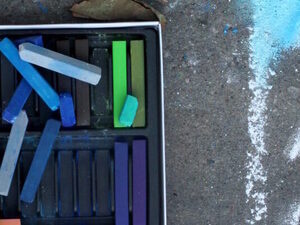 Rock the Chalk
MidWestOne Bank is pleased to announce our Second Annual Rock the Chalk Art Festival on Friday, August 11th from 5pm to 8:30pm. We will occupy the two north bound lanes of Clinton Street as well as the whole 100th block of Washington Street between Clinton Street and Dubuque Street.
Local artists and community members are encouraged to apply and fill the street with artwork. Each artist will receive a spot approximately 8"x8" to create their own unique art piece during the day. In the evening, we will throw a street party inviting the community to come down to enjoy the finished artwork along with free food, live music, and other family friendly entertainment.
Schedule for the day:
10:00 am: Artists begin their chalk drawings. The public is encouraged to watch their progress throughout the day. The Entertainment schedule is as follows.
12:00 pm: Entertainment begins on the main stage.
5:00-8:30 pm: The celebration begins. Festival goers will be able to get their face painted, eat free food, add their chalk creation to the community quilt, and listen to live music.
Artist information and application
Thank you for your interest in the MidWestOne Bank's 2nd annual chalk art festival! Please review the following information and then complete the attached application form to be considered as an artist for the event! We hope to include a wide variety of art styles and age groups. We encourage professional and amateur artists, students, non-profit groups, or even businesses to participate. Applications are due Friday, July 21st.
New this year: A cash prize will be given out for the Artist's and People's choice awards. The winners will be invited to be a featured artist at the 2018 Rock the Chalk!
Guidelines/Event Rules: Participation is on a volunteer basis only. All artwork must be appropriate for public viewing by all ages (Family Friendly). No nudity or words or symbols used as advertising or political propaganda may be incorporated into your image. Artwork may not violate any copyright laws. The event organizers reserve the right to refuse, stop or eliminate objectionable material. Event organizers reserve the right to take and use photographs for marketing and publicity purposes. No artist (new or returning) will be considered without a sketch and brief description of their proposed chalk art. Any artists under the age of 16 years must be accompanied by an adult. You are encouraged to bring your own shade and chair, but please limit chairs to no more than two per site.
What we provide: One set of 48 soft pastels (only non-toxic soft pastels or standard sidewalk chalk may be used), lunch for registered artists, an 8 foot by 8 foot square section of pavement. We will also have a couple chalk reels for making chalk lines if you would like to further grid out your space.
What you should bring: Additional soft pastels (This is especially important if your drawing is heavy on one or two colors), sun protection (hat, sunscreen, visor, etc.), blending tools, a copy of your initial idea sketch, knee pads or kneeling pad.
Friday, August 11
two north bound lanes of Clinton Street as well as the whole 100th block of Washington Street between Clinton Street and Dubuque Street
Event Type

Audience

General Interest

Website