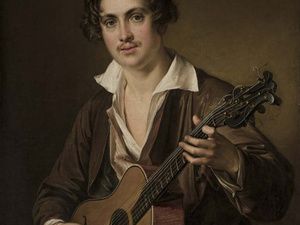 Russian 7-String Guitar Festival
Full schedule is below.
* This year's special theme: one concert as well as a public lecture will be dedicated to the 200th anniversary of the publication of Andrei Sychra's four "Exertsitsii" or "Exercises": four complex guitar pieces that explore the full range of the technical possibilities of the Russian 7-string guitar, and are designed to "teach" the player. Such a method in the shape of musical pieces is unique for any instrument!
* There will also be a premiere performance of a historic arrangement of Mozart's overture to the Abduction from the Seraglio for four Russian guitars that was lost for over 120 years, and that was among a collection of such arrangements that our Artistic Director, Oleg Timofeyev, recently rediscovered in a Moscow archive. More of these historic arrangements will be featured in future festivals.

* In addition to these special events, the festival will also once again feature a wide variety of musical styles, from new arrangements of works by Norwegian and Swedish composers for Russian Guitar, Jewish music, and audience favorite Russian-Romany ("Gypsy") tunes, this time accompanied by fiery Indian guitarist and percussionist Oliver Rajamani.

The number of musicians joining us his year has grown again, making this the largest event for the second time in a row, with more countries represented than ever:
Stefan Wester, Sweden
Marko Erdevicki, Serbia & Norway
John Schneiderman, California
Kevin Jellison, California
Maxim Lysov, Russia & Germany
Alexander Lemberg, Germany
Vadim Kolpakov, Russia & North Carolina
Oliver Rajamani, India & Texas
George Arutunyan, Russia & New York
Dima and Misha Melnik, Philadelphia, USA
Oleg Timofeyev, Russia & Iowa City
Dan Caraway, Dubuque, IA
Nikolai Bebutoff, Paris
Thursday, May 18, 2017, IOWA CITY
7:00 pm, Agudas Achim Synagogue, 401 E. Oakdale Blvd. Coralville: "Gypsy-Jewish Music"
Friday, May 19, 2017, IOWA CITY and MARION
2:00 pm - 3:30 pm International Commons, 1111 University Capitol Centre, Iowa City, Public Lecture (free and open to the public): "Sychra's Four Exertsitsii: The Essence of the 7-String Guitar", Oleg Timofeyev, speaker; Marko Erdevicki, performer
3:30-3:45 coffee break
3:45 pm - 5:15 p.m. International Commons, 1111 University Capitol Centre, Iowa City, (free and open to the public): "The forthcoming Pavlov-Azancheev Edition," Stefan Wester, Oleg Timofeyev
7:30 pm The Artisan's Sanctuary, 1070 7th Ave., Marion, IA, Concert: "200 years of Exertsitsii: Sychra's Legacy Today"; followed by: Russian-Gypsy Jam/Open Mike/Reception with food and wine
Saturday, May 20, 2017 IOWA CITY and DODGEVILLE, WI
11:00 - 1:00 pm International Commons, 1111 University Capitol Centre, Iowa City, Russian 7-Guitar Masterclasses (free and open to the public): Vadim Kolpakov, John Schneiderman, Maxim Lysov, Marko Erdevicki
5:00–6:30 pm Folklore Village, 3210 County Road BB, Dodgeville, WI, 53533, Masterclasses
7:30–9:30 pm Folklore Village, 3210 County Road BB, Dodgeville, WI, 53533, Concert: "The Best of the Russian 7-String Guitar"
Sunday, May 21, 2017 DES MOINES and IOWA CITY
2:00 pm Capitol Hill Lutheran Church, Concert, Heart of Iowa Classical Guitar Society, Concert: "The Best of the Russian 7-String Guitar"
7:15 pm Congregational Church, 30 N. Clinton St., Iowa City: doors open for pre-concert Silent Auction and Refreshments!
8:00 pm Congregational Church: "Concluding Grand Gala Concert: Festival Highlights" (Silent Auction winners are announced after the concert.)
Sunday, May 21, 2017
Multiple locations
Event Type

Audience

Departments

General Interest
Contact Name

Sabine Golz

Contact Email

Contact Phone Number

319-335-2281

Subscribe