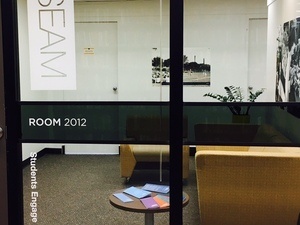 SEAM: Students Engage at Main—Open House for Staff
We invite you to join us here in The University of Iowa Main Library for the launch of The SEAM, a place where Students Engage at Main. We're celebrating with an Open House for our former, current, and future campus collaborators and library staff. (Refreshments will be served.)
This fall, students can stop by or make appointments at The SEAM to get research assistance from 5-9 p.m., Sunday - Thursday. We encourage you to help us spread the word that we're here to help when they're ready to research. (This supplements the services offered at the Consultation Station near the Service Desk @ Main, 9-5, M-F.)
We're also here to keep collaborating with all of the amazing people at Iowa who focus their energy on student success. That means you! We'll be hosting discussions, workshops, and 1:1 conversations throughout the coming year, so keep your eye out for SEAM events or contact us to create one with us.
Last but not least, please come with your handouts or flyers about the services you provide and we'll send some of ours home with you, cross-pollinating the campus with information to help students find all of us at their time of need! We hope you'll join us at the SEAM! (Did we mention, refreshments will be served?)
Date: Friday, Sept. 8, 2017
Time: 10 a.m.–noon
Where: The SEAM: 2nd floor SW Corner of Main Library
Individuals with disabilities are encouraged to attend all University of Iowa–sponsored events. If you are a person with a disability who requires a reasonable accommodation in order to participate in this program, please contact Cathy Cranston in advance at cathy-cranston@uiowa.edu or 319-384-2090.
Friday, September 8, 2017 at 10:00am to 12:00pm
University of Iowa Main Library, 2012/2013 (SW side of the 2nd floor)
125 West Washington St. Iowa City, IA 52242-1420
Event Type

Audience

Departments

Tags

Website
Hashtag

Contact Name

Cathy Cranston

Contact Email

Contact Phone Number

319-384-2090

Subscribe