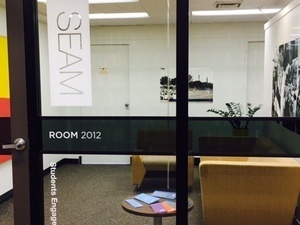 SEAM: Students Engage at Main - Student Open House
Students, there's something new for you at The University of Iowa Main Library! Join us for an all-day open house celebrating the launch of The SEAM, a place where Students Engage at Main.
This fall, students can drop-in or make appointments at The SEAM to get research assistance from 5-9 p.m., Sunday - Thursday. When you're ready to research, our friendly staff is here to help! (This supplements the services offered at the Consultation Space near the Service Desk @ Main, 9-5, M-F.)
Workshops and events will also take place in this space throughout the school year. Keep checking the events calendar or the SEAM website (http://www.lib.uiowa.edu/seam) for more information.
We'll have refreshments and activities, so please stop by to check it out, and come back
Date: Wednesday, September 13, 2017
Time: 9 a.m. - 6 p.m.
Where: The SEAM: Rooms 2012/13, 2nd floor SW side of Main Library
Individuals with disabilities are encouraged to attend all University of Iowa–sponsored events. If you are a person with a disability who requires a reasonable accommodation in order to participate in this program, please contact Cathy Cranston in advance at cathy-cranston@uiowa.edu or 319-384-2090.
Wednesday, September 13, 2017 at 9:00am to 6:00pm
University of Iowa Main Library, 2012/2013 (SW side of the 2nd floor)
125 West Washington St. Iowa City, IA 52242-1420
Event Type

Audience

Departments

Tags

Website
Hashtag

Contact Name

Cathy Cranston

Contact Email

Contact Phone Number

319-384-2090

Subscribe