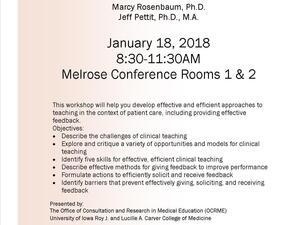 Skills for Educators Workshop: Clinical Teaching
This workshop will help you develop effective and efficient approaches to teaching in the context of patient care, including providing effective feedback.
Objectives:
· Describe the challenges of clinical teaching
· Explore and critique a variety of opportunities and models for clinical teaching
· Identify five skills for effective, efficient clinical teaching
· Describe effective methods for giving feedback to improve performance
· Formulate actions to efficiently solicit and receive feedback
· Identify barriers that prevent effectively giving, soliciting, and receiving feedback
Individuals with disabilities are encouraged to attend all University of Iowa–sponsored events. If you are a person with a disability who requires a reasonable accommodation in order to participate in this program, please contact OCRME in advance at 319-335-8901.
Thursday, January 18 at 8:30am to 11:30am
General Hospital, Melrose Conference Rooms 1 & 2
220 Hawkins Drive, Iowa City, Iowa
Event Type

Audience

Departments

Website
Contact Name

Stephanie Burnett

Contact Email

Contact Phone Number

319-335-8901

Subscribe