On June 13, a new event calendar system will be launched. At that date, only events in the new system will be displayed. Please make sure all events after June 13 are added to
https://content.uiowa.edu
. You can find out more information about the transition on that site as well.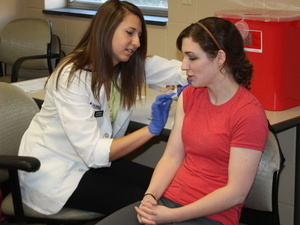 SNPhA Immunization Clinic
College of Pharmacy student members of the Student National Pharmaceutical Association (SNPhA) will provide immunizations (meningococcal and TDaP vaccines) in collaboration with Mercy Family Pharmacy at high schools in Dubuque. In addition, the student pharmacists will assist in documenting immunizations in IRIS.
Individuals with disabilities are encouraged to attend all University of Iowa–sponsored events. If you are a person with a disability who requires a reasonable accommodation in order to participate in this program, please contact Andrew Sabers in advance.
Wednesday, May 16 at 8:30am to 12:30pm
Dubuque Senior High School 1800 Clarke Drive, Dubuque, IA, 52001
Event Type

Audience

Departments

Tags

Website
Contact Name

Andrew Sabers

Contact Email

Subscribe