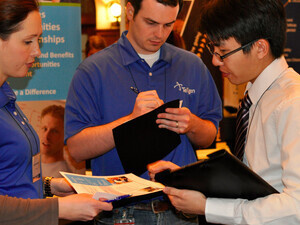 Spring 2017 Engineering Career Fair
The Spring 2017 ​Engineering ​Career ​Fair ​will ​be ​geared ​towards engineering and computer science students ​graduating ​in May and December 2017 ​as ​well ​as ​students ​seeking ​​summer ​and fall ​2017 ​internships ​and ​co-ops.
The roster will include more than 100 manufacturing, consulting, health care, information technology (IT), government, and nonprofit organizations.
Employers can register at: https://www.regonline.com/builder/site/Default.aspx?EventID=1901641
Registration is not necessary for student and alumni attendees.
Tuesday, February 14, 2017 at 12:00pm to 4:00pm
Iowa Memorial Union (IMU), Main Lounge
125 North Madison Street, Iowa City, Iowa
Event Type

Audience

Departments

General Interest

Tags
Contact Name

Kelli Delfosse

Contact Email

Contact Phone Number

319-335-6280

Subscribe