On June 13, a new event calendar system will be launched. At that date, only events in the new system will be displayed. Please make sure all events after June 13 are added to
https://content.uiowa.edu
. You can find out more information about the transition on that site as well.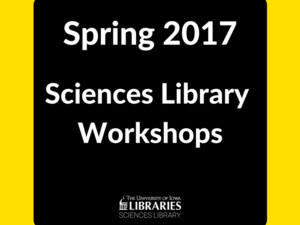 Staying Current Workshop
How do you keep up with the news and research in your field? Would you like to learn how to use technology to find new information? Join us for a Staying Current workshop, and learn how to use RSS feeds and other alert options to keep up with blog posts, news, and scholarly articles.
Individuals with disabilities are encouraged to attend all University of Iowa–sponsored events. If you are a person with a disability who requires a reasonable accommodation in order to participate in this program, please contact Sara Scheib in advance at sara-scheib@uiowa.edu.
Wednesday, February 22, 2017 at 1:00pm to 1:50pm
Sciences Library, 102
120 East Iowa Avenue, Iowa City, Iowa
Event Type

Audience

Departments

Website
Hashtag

Contact Name

Sara Scheib

Contact Email

Subscribe