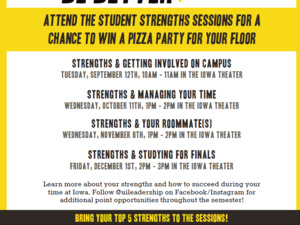 Strengths & Your Roommate(s)
As a student at the University of Iowa, you will begin to learn about the Strengths model and your personal Strengths at summer orientation sessions as well during the On Iowa! program that kicks off the fall semester. You can also engage in a variety of opportunities during the year that help you learn more about and practice using your Strengths.
At this Student Strengths Session, learn about how to use your strengths and understand your roommate(s), to resolve conflict and have a thriving relationship.
RSVP by clicking on the "I'm Interested" button on the event page, and following the login instructions.
Individuals with disabilities are encouraged to attend all University of Iowa sponsored events. If you are a person with a disability who requires an accommodation in order to participate in this program, please contact the Center for Student Involvement and Leadership in advance at 319-335-3059.
Wednesday, November 8, 2017 at 1:00pm to 2:00pm
Iowa Memorial Union (IMU), Iowa Theater
125 North Madison Street, Iowa City, Iowa
Event Type

Audience

Departments

General Interest
Contact Name

Liza Hurley

Contact Email

Contact Phone Number

319-335-3059

Subscribe