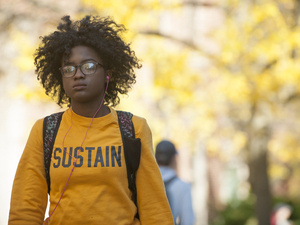 Student Sustainability Showcase
The College of Liberal Arts and Sciences, with the assistance of the Office of Outreach and Engagement and the Office of Sustainability, are sponsoring an on-campus event from 12:00 AM to 5:00 PM in the Voxman Music Building on the University of Iowa campus on April 20 with the focus on sustainability and the environment. The event is part of UI Earth Month.
Students will have the opportunity to showcase their research, writings, performances, and artwork around issues relating to sustainability. It is free and open to the public.
The event coincides with our University of Iowa theme semester, "Climate for Change." Student work will include traditional research-related presentations, poster exhibitions, creative writing readings, visual arts exhibitions, and performing arts presentations.
Additionally, we will offer a panel-led breakout session in the afternoon (1:00-2:30), called "Sustainable Activism," which will feature professionals who will share their stories in sustainability with students and offer advice on positive engagement during difficult times.
The purpose of the panel discussion is to offer students a range of viable options for continuing their activism even if they do not work for organizations like the Sierra Club. Each panelist will speak for about 15 minutes then the session will be opened up for questions and answers.
Individuals with disabilities are encouraged to attend all University of Iowa–sponsored events. If you are a person with a disability who requires a reasonable accommodation in order to participate in this program, please contact Dian Gottlob in advance at dian-gottlob@uiowa.edu or 319-335-2627.
Friday, April 20 at 12:00pm to 5:00pm
Voxman Music Building
93 East Burlington Street, Iowa City, IA 52240
Event Type

Audience

Departments

General Interest

Website
Contact Name

Dian Gottlob

Contact Email

Contact Phone Number

319-335-2627

Subscribe