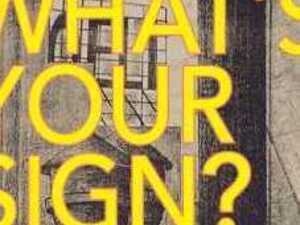 Symposium: What's Your Sign? Retail Architecture and the History of Signage
The Legacies for Iowa Collections-Sharing Project at the University of Iowa Museum of Art presents a symposium considering the history of retail architecture signage.

For as long as goods have been bought and sold, shopkeepers and traders have visually communicated their wares through signs. This breakfast symposium explores the evolution of signage from the shutter paintings of ancient Pompeii to the wooden trade signs hanging along Medieval English streets to the neon of twentieth-century American roadside signs. How have symbols of selling shifted over the centuries? How do retail signs reflect or reject broader visual cultures? What technological shifts have precipitated the most dramatic design departures? Papers may examine the iconography, typography, and materiality of retail signs as well as the cultural, financial, and geo-political forces that shaped storefront signs in the past. Papers may also contend with the future of retail sinage in an increasingly digital and global economy. This public event will be livestreamed and occurs in conjunction with the City of Iowa City Downtown District's CoSign project, which partners local artists and craftspeople with small business to create exciting and distinctive new signs.
Individuals with disabilities are encouraged to attend all University of Iowa-sponsored events. If you are a person with a disability who requires a reasonable accommodation in order to participate in a program, please contact UIMA in advance at 335-1727.
Saturday, September 9, 2017 at 9:00am to 1:00pm
Visual Arts Building
107 River Street
Event Type

Audience

Departments

General Interest

Website
Cost

Free

Contact Name

Elizabeth Wallace

Contact Email

Contact Phone Number

319-353-2847

Subscribe