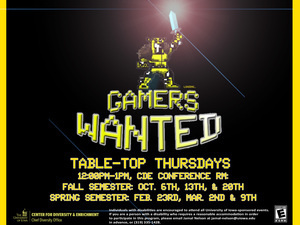 Table-Top Thursday
The Center for Diversity and Enrichment is bringing Table-Top Thursdays back to UIowa. Fans of Monopoly, Battleship, Uno, Resistance, and others can come by the CDE to hang out and play some games! The table is opened to all students and friends, so if you are a staff member who likes to play chess or a faculty member who loves to play card games, we invite you to come by as well!
This event series will run for three weeks in the fall and three weeks in the spring. We are also open to any suggestions about the program; we would love to tailor the program to its participants' needs.
Table-Top Thursdays will start on Oct. 6 and continue for two weeks after that date (Oct. 13 and Oct. 20). In the spring, we will start on February 23rd and continue two weeks after that (March 2 and March 9, 2017).
Come by, say hello, bring a friend, and play some games!
Individuals with disabilities are encouraged to attend all University of Iowa–sponsored events. If you are a person with a disability who requires a reasonable accommodation in order to participate in this program, please contact Jamal Nelson in advance at jamal-nelson@uiowa.edu or 319-335-1428.
Thursday, March 9, 2017 at 3:00pm to 4:00pm
Phillips Hall, Center for Diversity and Enrichment Conference Room, 24 Phillips hall
16 North Clinton Street, Iowa City, Iowa
Event Type

General Interest

Tags
Contact Name

Jamal Nelson

Contact Email

Contact Phone Number

319-335-1428

Subscribe