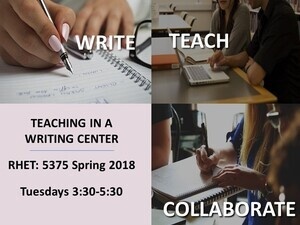 Teaching in a Writing Center Seminar/Practicum
The primary purpose of this seminar/practicum is to prepare graduate students and faculty to work in the Writing Center at the University of Iowa and/or other institutions. A secondary purpose is to introduce some important themes in writing studies. Students read articles, books, handouts, and web pages on the following related issues: reading and writing processes, one-on-one conferencing dynamics, second language writing, basic writing, first- and second-year college writing, writing across the curriculum, and writing center administration. Students keep a weekly journal in which they apply course readings to tutoring their own writing center students. An oral report on a case study of a student writer or on a resource for tutoring writing as well as a final written project are required. Meets Tuesdays 3:30–5:30 pm.
For more information and the special permission number to register, please email Carol Severino at carol-severino@uiowa.edu.
Individuals with disabilities are encouraged to attend all University of Iowa–sponsored events. If you are a person with a disability who requires a reasonable accommodation in order to participate in this program, please contact Carol Severino in advance at carol-severino@uiowa.edu or 319-335-0188.
Tuesday, January 16
English Philosophy Building, 110
Event Type

Audience

Website
Contact Name

Carol Severino

Contact Email

Contact Phone Number

319-335-0188

Subscribe