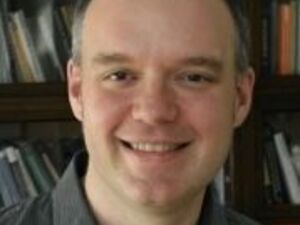 "The Dynamics of Phonological Cognition" with Matt Goldrick
Matt Goldrick, Professor & Chair of the Linguistics Department at Northwestern University, will give a talk sponsored by the DWLLC, Department of Linguistics, and the DeLTA Center.
Professor Goldrick's "research utilizes behavioral experiments as well as formal models to build theories of the cognitive and neural mechanisms underlying linguistic knowledge and processing in mono- and multi-lingual speakers."
From faculty profiles, Northwestern University, 1 December 2017.
http://faculty.wcas.northwestern.edu/matt-goldrick/v2/#!/
Title: The dynamics of phonological cognition
Abstract: It is clear that the positions of the articulators evolve continuously in physical space. For example, the tongue does not instantaneously jump from one constriction to another; it smoothly moves between different configurations. In ongoing work, we have proposed that this continuity is a core feature of cognition. Mental representations evolve continuously in an abstract symbolic space, organized around the dimensions that define linguistic structure. To support the application of this proposal -- Gradient Symbolic Computation (GSC) -- to phonology, I will review acoustic phonetic data suggesting multiple phonological planning elements can be co-activated and as a result co-produced in articulation. I will then present an overview of ongoing work examining the implications of dynamics for theories of grammar, suggesting that GSC may provide a novel, non-derivational account of opaque interactions between phonological processes.
This event is free and open to the public. Individuals with disabilities are encouraged to attend all University of Iowa-sponsored events. If you are a person with a disability who requires a reasonable accommodation in order to participate in this program, please contact Christine Shea in advance at 319-335-2795.
+ Light refreshments will be served.
Thursday, December 7, 2017 at 3:30pm to 5:00pm
Phillips Hall, Room 315
16 North Clinton Street, Iowa City, Iowa
Event Type

Audience

Departments

General Interest

Tags
Contact Name

Christine Shea

Contact Email

Contact Phone Number

319-335-2795

Subscribe