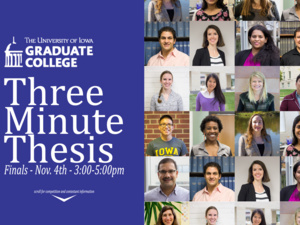 Three Minute Thesis Finals
Learn more about our the finalists on the finalist spotlight website!
The Three Minute Thesis (3MT) competition is part of the Graduate College's career and professional development effort. It challenges graduate students to communicate their research in three minutes or less in non-specialist language.
3MT contestants represent a diverse array of disciplines and areas of study, and reflect the passion and thirst for discovery common among all of Iowa's graduate students.
Students are competing for cash prizes. A winner and honorable mentions are selected by judges from the Iowa community, in addition to a people's choice award voted on by the audience.
Everyone is welcome to attend, learn about the research being conducted across campus, and support their favorite graduate student as they compete!
This year's finalists include:
Doctoral students
Kareem Ebeid, Targeted Nanoparticles for Cancer Treatment, Pharmaceutics and Translational Therapeutics
Anh-Vu Do, Using Ultrasound to Enhance Tumor Cell Killing, Chemical and Biochemical Engineering
Vijay Permeswaran, Reverse Shoulder Replacement, Biomedical Engineering
Kathryn Brightbill, Explaining Analyst Bias: Uncertainty & Time, Business Administration (Accounting)
Ying Hsu, How the loss of transport complex in photoreceptor cells causes devastating blindness, Molecular and Cellular Biology
Kirsten Stoner, A Pain in the Neck: Modeling Cervical Myelopathy, Biomedical Engineering
Tim Chung, Will it Rupture?, Biomedical Engineering
Rachel Anderson, The effects of chronic corticosterone on the female rodent brain, Psychological and Brain Sciences
Madhur Joshi, Access to Aza-heterocycles: Key to a Better Future, Chemistry
Erica Ricker, Implant Infection Mitigation, Chemical and Biochemical Engineering
Ali Azeez Ali Al-Jumaili, Towards a Better Work System in Nursing Homes, Pharmacy (Pharmaceutical Socioeconomics)
Magdalene Ameka, Lose the Weight by Ignoring the Fat, Molecular and Cellular Biology
Laura Kuhlman, The Beat Goes On: Women Writers of the Beat Generation, English
Master's students
Sara Knox, How Helpful Are Specific Techniques in Online Counseling?
Nyla Balakrishnan, Integration of oral health and chronic diseases
Suvendra Vijayan, Accuracy and reliability of using bio 3D printed prostheses
Friday, November 4, 2016 at 3:00pm to 5:00pm
Art Building West, 240
141 North Riverside Drive, Iowa City, Iowa
Event Type

Departments

Website
Contact Name

Joseph Cannella

Contact Email

Subscribe