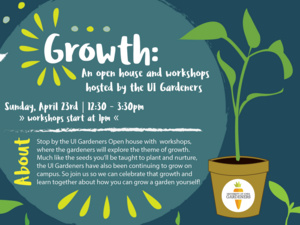 UI Gardeners Open House
Stop by the UI Gardeners open house and workshops, where the gardeners will be exploring the theme of growth. Join us so we can celebrate our organization's growth and learn together about how you can grow a garden yourself!
Itinerary
12:30–1 p.m. – Mingle, explore the garden
1–2 p.m. – Workshop cycle 1
2–2:10 p.m. – Snack, refreshment, and music break
2:10–3:10 p.m. – Workshop cycle 2
3:10–3:30 p.m. – Snacks and refreshments
Each Workshop Cycle will include a workshop on organics, soil health, planting, and harvesting. After completing the four workshops, you will receive your own herb plant to take home and wills have the knowledge you need to take care of it!
This event is part of Earth Month.
Individuals with disabilities are encouraged to attend all University of Iowa–sponsored events. If you are a person with a disability who requires a reasonable accommodation in order to participate in this program, please contact Julia Poska in advance at julia-poska@uiowa.edu or 630-254-1853.
Sunday, April 23, 2017 at 12:30pm to 3:30pm
UI Student Garden Hawkeye Park Rd Iowa City, IA 52246
Event Type

Audience

Departments

General Interest
Contact Name

Julia Poska

Contact Email

Contact Phone Number

630-254-1853

Subscribe