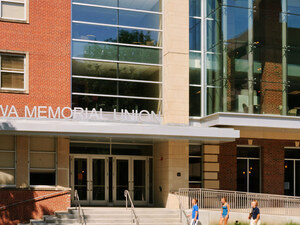 University of Iowa Statewide Educator Fair
The Pomerantz Career Center and the College of Education invite UI students, alums, and statewide guests/candidates to participate in the UI Statewide Educator Fair.
10 a.m.–12 p.m.—UI students/alums only
Noon to 2 p.m.—Open to all

For more information visit: https://careers.uiowa.edu/educator-fair
Individuals with disabilities are encouraged to attend all University of Iowa sponsored events. If you are a person with a disability who requires an accommodation in order to participate in this program, please contact Joanna Halsch in advance at joanna-halsch@uiowa.edu or 319-353-2816.
Friday, March 31, 2017 at 10:00am to 2:00pm
Iowa Memorial Union (IMU), Second Floor Ballroom
125 North Madison Street, Iowa City, Iowa
Event Type

Audience

Departments

Tags
Cost

Free

Contact Name

Joanna Halsch

Contact Email

Contact Phone Number

319-353-2816

Subscribe