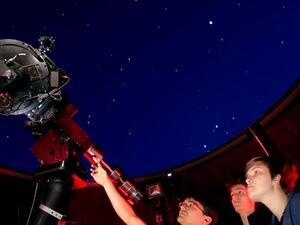 VAO Public Observing
Public telescope observing at the University of Iowa
Public Observing is from 8-10 p.m., weather permitting. These events are free for all ages.
The Van Allen Observatory is located on the roof of Van Allen Hall on the University of Iowa campus. Roof access is a stairway ajacent to the 7th floor East elevator door.
Follow Us for Updates!
Twitter: @VA_Observatory
Facebook: @VanAllenObservatory
Friday, October 13, 2017 at 8:00pm to 10:00pm
Van Allen Hall, Roof access is a stairway adjacent to the 7th floor East elevator door.
30 North Dubuque Street, Iowa City, Iowa 52242
Audience

Departments
Contact Name

Professor Cornelia Lang

Contact Email

Contact Phone Number

319-335-1686

Subscribe