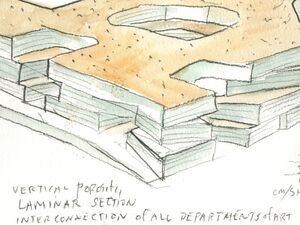 Visual Arts Building Open House and Ribbon Cutting Ceremony
"Architecture for Art"
Presentation by Steven Holl and Chris McVoy of Steven Holl Architects, N.Y.
Oct 7, 2016
11 a.m.-12 p.m.
Art Building West 240
Visual Arts Building ribbon cutting and open house
Oct 7, 2016
3:30-5 p.m.
Visual Arts Building

The University of Iowa's new Visual Arts Building, replacing the Art Building complex that was flooded in 2008, will celebrate its opening on October 7 with a special presentation at 11:00 a.m. by Steven Holl, the building's world-renowned architect. Holl, of Steven Holl Architects in New York, will give a talk on recent art-related works; Steven Holl Architects Senior Partner Chris McVoy will present the Visual Arts Building within this larger context. After the ribbon cutting at 3:30 p.m., tour the building's state-of-the-art instructional and exhibition spaces .
The 126,000-square-foot Visual Arts Building was designed by Steven Holl of Steven Holl Architects in New York and BNIM Architects in Kansas City, Mo., and built by Miron Construction. Among the building's features are an atrium-like central skylight, channel-glass walls, and assorted square windows. The building houses five galleries and a 70-seat auditorium. The building was featured in the New York Times on Aug. 4 and Sept. 16.
The building will be used by printmaking, ceramics, 3-D design, metal arts and jewelry, sculpture, painting and drawing, graphic design, intermedia and video art, and photography.
The School of Art & Art History is part of the College of Liberal Arts & Sciences.
Friday, October 7, 2016
VAB 107 River Street Iowa City, Iowa
Event Type

Audience

Departments

General Interest

Tags

Website
Cost

Free and open to the public

Contact Name

Betsey Kosier

Contact Email

Contact Phone Number

319-335-1376

Subscribe