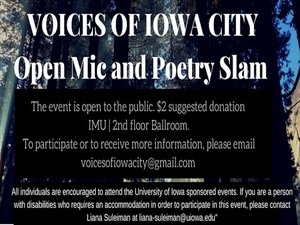 Voices of Iowa City: Poetry Slam and Open Mic
On Friday, March 24, from 8–10 p.m., we will be holding the first Voices of Iowa City Open Mic and Poetry Slam in the second floor ballroom in the IMU!
Being in the literary hub that is Iowa City, we've heard many people's surprise at learning that we do not have an official Poetry Slam competition or group. While hopefully that'll change in the future, this first open mic will have a strong focus on diversity and/or human rights and is open to all members of the community. Although there will be a sign-up sheet at the door for last minute entries, please email voicesofiowacity@gmail.com with your submission or interest.
Individuals with disabilities are encouraged to attend all University of Iowa–sponsored events. If you are a person with a disability who requires a reasonable accommodation in order to participate in this program, please contact Liana Suleiman in advance at liana-suleiman@uiowa.edu.
Friday, March 24, 2017 at 8:00pm to 10:00pm
Iowa Memorial Union (IMU), Second floor ballroom
125 North Madison Street, Iowa City, Iowa
Event Type

Audience

Departments

General Interest
Contact Name

Liana Suleiman

Contact Email

Subscribe