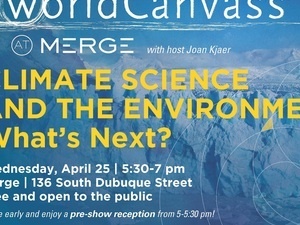 WorldCanvass: Climate Science and the Environment
Environmental challenges come in all shapes and sizes. Some seem far away and intangible while others touch us in our homes, on our farmland, in the air we breathe, and in the water we drink. Leading experts in climate science and environmental research will join WorldCanvass host Joan Kjaer on April 25 to discuss the most pressing concerns facing Iowans and international efforts to mitigate potentially disastrous effects of climate change and the resulting disruption to populations worldwide. You're invited to attend the live discussion at MERGE, 136 South Dubuque Street, from 5:30-7 p.m. on April 25. The program is free and open to the public with a pre-show catered reception from 5-5:30 p.m.
Scientists, community leaders, environmental watchdogs, and others are studying the effects of climate change on the environment and are advancing new solutions by the day, but will it be enough to avoid catastrophic damage to the most vulnerable parts of our planet or a steady degradation of the air, the land, and the sea?
UI faculty members Greg Carmichael, Gabriele Villarini, Craig Just, Larry Weber, Jerry Anthony, Tyler Priest, and Jerald Schnoor—all recognized leaders in their fields—will share current research and discuss policy approaches to environmental challenges in the U.S. and globally.
To see the complete program schedule, please visit http://bit.ly/2JeYSVg
This event is part of Earth Month at the University of Iowa.
WorldCanvass programs are recorded as audio podcasts and are available on iTunes, the Public Radio Exchange (PRX), and the WorldCanvass website. University of Iowa International Programs produces the series in partnership with MERGE, 136 South Dubuque Street. Audio production is provided by Kyle Marxen (www.kylemarxensound.com). This program is co-sponsored by the UI Public Policy Center and its World Climate Simulation to be held on Saturday, April 21, at the Iowa City Public Library.
Individuals with disabilities are encouraged to attend all University of Iowa-sponsored events. If you are a person with a disability who requires a reasonable accommodation in order to participate in this program, please contact Amy Green in advance at amy-green-1@uiowa.edu or 319-335-1433.
Wednesday, April 25 at 5:00pm to 7:00pm
MERGE 136 S Dubuque St
Event Type

Audience

Departments

General Interest

Tags

Website
Cost

Free and open to the public.

Hashtag

Contact Name

Joan Kjaer

Contact Email

Contact Phone Number

319-335-2026

Subscribe