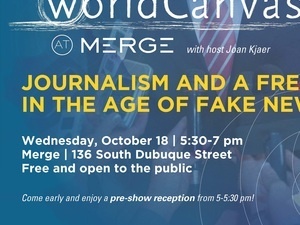 WorldCanvass: Journalism and a Free Press in the Age of Fake News
News. Fake news. Disinformation. Fact-checking. Sourced news. Unverified sources. Social media incursions by foreign nations. Cleverly disguised mass propaganda that masquerades as a heartfelt message from a friend…….who knows what to believe anymore when even undeniably true facts are in dispute? This question is at the heart of the upcoming WorldCanvass discussion, when the topic is "Journalism and a Free Press in the Age of Fake News." The live event takes place from 5:30-7 p.m. on October 18 at MERGE, 136 South Dubuque Street, and is hosted for UI International Programs by Joan Kjaer. We invite you to come at 5 and join us for a pre-show catered reception!
There's an old advertising phrase that goes like this: "Water, water everywhere, and not a drop to drink." Well, today, we're flooded with news or what passes for news with very little agreement on where the truth lies or what can and cannot be believed. Political and cultural affinities drive many to echo chambers so they can be affirmed in their own beliefs while shaking their heads at others who sit equally entrenched in echo chambers of their own.
However distressing this is in the America of 2017, it's not really new, neither here nor around the world. The media may be different, the platforms may be new, the actors are ever-evolving, and we're more aware of it now than in years past. But disinformation and distortion for personal and political purposes has long been a fact of life. WorldCanvass guests will discuss the cynicism and distrust so many feel for journalism and for public institutions that once served as the bedrock of common understanding in our country. And we'll hear from four international writers and journalists about their own struggles with cynicism, press freedom, and fake news. Clearly, the relevance of this conversation goes far beyond the U.S.
Joining us for the discussion are David Ryfe, director of the UI School of Journalism and Mass Communication; Christopher Merrill, director of the UI's International Writing Program (IWP); and participants in the IWP's fall residency program: Ubah Cristina Ali Farah, writer and poet from Somalia/Italy; Hajar Bali, writer and poet from Algeria; Fatena AlGhorra, poet and journalist from Belgium; and Yuriy Serebriansky, writer, journalist, and editor from Kazakhstan.
To see the complete program schedule, please visit http://bit.ly/2yaBJxT
WorldCanvass programs are recorded as audio podcasts and are available on iTunes, the Public Radio Exchange (PRX), and the WorldCanvass website. University of Iowa International Programs produces the series in partnership with MERGE, 136 South Dubuque Street. Audio production is provided by Kyle Marxen (http://www.kylemarxensound.com/).
Individuals with disabilities are encouraged to attend all University of Iowa-sponsored events. If you are a person with a disability who requires a reasonable accommodation in order to participate in this program, please contact Amy Green in advance at amy-green-1@uiowa.edu or 319-335-1433.
Wednesday, October 18, 2017 at 5:00pm to 7:00pm
MERGE 136 S Dubuque St
Event Type

Audience

Departments

General Interest

Tags

Website
Cost

Free and open to the public.

Hashtag

Contact Name

Joan Kjaer

Contact Email

Contact Phone Number

319-335-2026

Subscribe