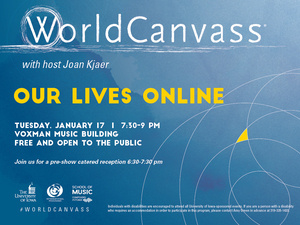 WorldCanvass: Our Lives Online
The focus of the UI Theme Semester in spring 2017 is the Internet, the global system of connectedness that has literally made the world smaller. It enables the efficient processing of complex information, the transfer of knowledge and ideas beyond the borders of language and geography, technological advances few would have dared imagine possible mere decades ago, and rapid communication that can save lives, start a revolution, crowdfund research, and play to both our better and worse natures in interpersonal exchange. WorldCanvass guests will talk with host Joan Kjaer about "Our Lives Online" on January 17, from 7:30-9:00 p.m., in the Recital Hall of the Voxman Music Building. The public is invited to attend both WorldCanvass and the catered, pre-show reception (6:30-7:30 p.m.).
Kindly RSVP at http://bit.ly/LivesOnline.
WorldCanvass participants will explore the power of social media, discuss the societal and economic importance of Internet access, help us understand big data and what our online behaviors tell others about us, and describe how new and rapidly-changing technologies are altering the way we live.
A few of the program participants are:
• Lena Hill, senior associate to the president, associate professor of English and African American Studies, and co-author of the recent publication "Invisible Hawkeyes"
• Jennifer Fawcett, Working Group Theatre, the playwright of "Out of Bounds," a story of online bullying and a parent's quest to protect her child
• Katie Hassman, UI Libraries, who teaches an undergraduate course called "Being Responsible Online"
• Dan McGehee, director of the National Advanced Driving Simulator, discussing new technologies in transportation and their effects on employment, the economy, and personal autonomy
• Mark Ginsberg, M.C. Ginsberg Objects of Art, whose 3-D design and printing services provide biomedical prototyping
WorldCanvass is recorded before a live audience for later broadcast on YouTube, iTunes, and the Public Radio Exchange. Free podcasts can be downloaded from iTunes and past programs are available through IP's website.
WorldCanvass is a production of UI International Programs in collaboration with the UI School of Music and the UI Office of Strategic Communication. For more information on WorldCanvass, contact Joan Kjaer (joan-kjaer@uiowa.edu) or visit the WorldCanvass web page.
Individuals with disabilities are encouraged to attend all University of Iowa- sponsored events. If you are a person with a disability who requires a reasonable accommodation in order to participate in this program, please contact Amy Green in advance at amy-green-1@uiowa.edu or 319-335-1433.
Tuesday, January 17, 2017 at 6:30pm to 9:00pm
Voxman Music Building, Recital Hall
93 East Burlington Street, Iowa City, IA 52240
Event Type

Audience

Departments

General Interest

Tags

Website
Cost

Free and open to the public

Hashtag

Contact Name

Joan Kjaer

Contact Email

Contact Phone Number

319-335-2026

Subscribe