Event Calendar for Iowa Memorial Union (IMU)
Thursday, April 6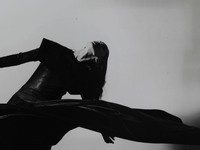 Bodies in Motion compares the dance photography of Barbara Morgan to work produced by artists from the Renaissance to the present. Imagined as a complement...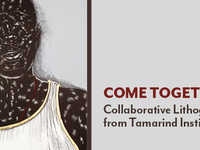 This exhibition explores the collaborative nature of lithography at the Tamarind Institute. Thirty lithographs by contemporary artists are accompanied by...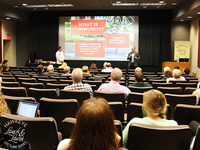 You are invited to the upcoming Hawkeye Lunch & Learn lecture titled The Virtual Soldier, presented by Karim Abdel-Malek, Senior Associate to the Provost,...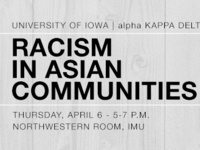 What drives racism in Asian American Pacific Islander (AAPI) communities? Why are skin-lightening products so prevalent in Asia? Who are we allowed to date?...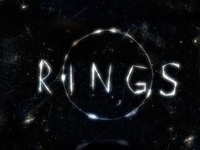 A young woman (Matilda Lutz) becomes worried about her boyfriend (Alex Roe) when he explores a dark subculture surrounding a mysterious videotape said to...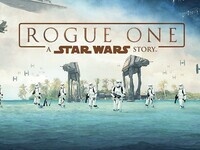 The Rebel Alliance makes a risky move to steal the plans for the Death Star, setting up the epic saga to follow. Showings: Thursday, April 6, 8pm and...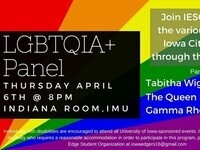 Join the IESO in a celebration of the different identities within the LGBTQIA+ community on our college campus and Iowa City community. We will be hosting an...