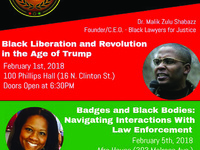 The Justice and Liberation Series, hosted by the Afro-American Cultural Center with the help of Alpha Theta Chatper of Alpha Phi Alpha and the Kappa Psi...
Recent Events
Luke Wassink left a positive review
4/21/2016
I LOVED this event. The two leaders were friendly and confident. They had clearly practiced and knew their material well. They inspired me to be a better teacher. I can't say enough good things!